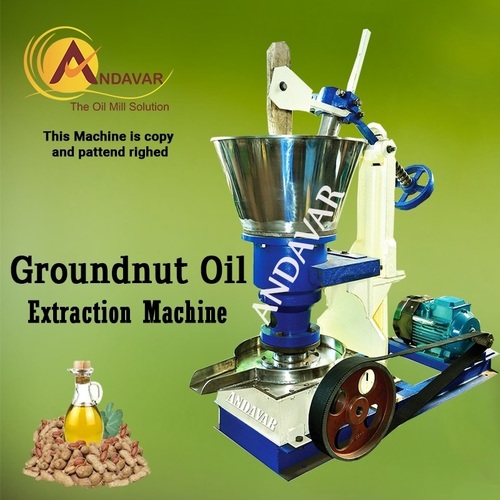 Linseed Oil Mill Machine
Price And Quantity
Product Specifications
Product Description
Andavar the Oil Mill solutions are the leading manufacturer of linseed Oil Extractor Machine as per customer requirement. The Andavar linseed oil extraction machine is made for cold press linseed oil extraction without external temperature. Andavar Linseed Oil Extractor Machine give the natural cold press linseed oil. Reliable semi autonomic linseed oil extraction machine equipment gives ultimate traditional linseed oil. The Andavar cold press linseed oil extraction machine have foundation free and low noise performances. Andavar linseed Oil Extractor Machine has been designed in a simple and symmetrical shape. Base and bodies are fabricated from Mild Steel. Because of the cold press linseed oil machine, user get Superior quality of Oil. Low Maintenance, vibration free cold press flax seed oil machine. Moreover the linseed oil extraction machine can crush all kind of oil seeds like ground nut, copra(coconut), mustard seeds, neem seeds, castor seeds, Walnut, sun flower seeds.
The Andavar Oil Mill Machineries production process of pressing retains the effective components of linseed polyunsaturated fatty acids and protein, dietary fiber, vitamins, trace elements and other nutrients beneficial to human body as much as possible, which is more suitable for special supplement of human health.
Oil is pressed by great pressure of physical machinery under low temperature, so it is called cold pressing method. The Andavar Linseed Oil Extractor Machine oil is distributed in the unreformed protein in the cell and contains rich linseed natural ingredients (linoleic acid and other nutrients) without processing by the traditional high temperature frying or steaming.
Linseed Oil Extraction Machine Specification

| | |
| --- | --- |
| Specification | Details |
| Name of theProduct | Linseed Oil Extraction Machine |
| MachineExtraction Method | Cold Press |
| Oil SeedCrushing Parts | Iron |
| FoundationFree | Yes |
| Installation | SelfInstalled |
| Sound | Noise Less |
| VibrationFree | Yes |
| Motor Power | Depends onmodel 5 Hp to 15 Hp |
| Motor Starter | Provided |
| Motor Voltage | 440 V |
| Motor Phase | 3 Phase |
| Motor RPM | Depends onmodel |
| AutomaticGrade | SemiAutomatic |
| Capacity | Depends onmodel (16 kg/Hr to 60 Kg/Hr) |
| Utility | Commercial |
| OtherOil Seeds | Edible Oil :Groundnut Oil, Sesame Oil (Gingelly Oil), Coconut (Copra) Oil,Mustard Oil, Sunflower Oil, Rapeseed Oil, Castor Oil, Flaxseed(Linseed) Oil, Almond Oil, Olive Oil , Vegetable Oil. Non-EdibleOil : Karachi Oil, Pungan Oil, Illupan Oil,Neem Oil, Moringa(Drumstick) Oil,Blackseed (Black Cumin) Oil, Castor Oil, CashewShell Oil, Cottonseed Oil. |
Trade Information
Open pack or Wooden pack as per customer wish

All India