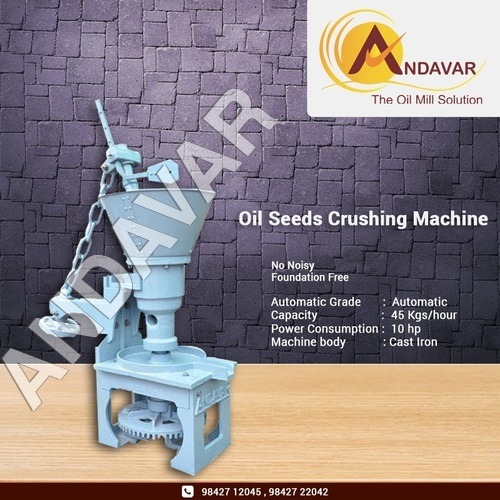 Oil Seed Crushing and Grinding Machine
Price And Quantity
Product Specifications
Product Description
The Andavar Rotary Oil Machine is Indian old ancient technology based machine, Because of the crushing parts are rotated, oil seeds are crushed and milled so this machines are called Rotary oil mill. Rotary oil mill machine used to extract oil from oil seeds like Mustard, Sesame, Sunflower, Ground nut, coconut etc. Andavar Rotary oil mill machine build in crushing parts of pestle and moter rotated by Electric Motor. It is traditional oil extraction technology widely used in India. The Andavar Rotary Oil Machine, Ladies can also operate the machine easily, Easy to assembling, low noise and No vibration. Easy maintenance, Low electricity consumption. No need skilled labours for fitting and operating. The Oil Seed Crushing and Grinding Machines we offer are employed to crush as well as grind the oil seeds such as Mustard, Sesame, Sunflower, Ground nut, coconut etc. The machines have a special build and are noted as the highly robust machines featured with durable crushing part. The motor of these machines are rotated via the Electric Motors. The machines can be effortlessly operated even by the inexperienced workers. Easy in assembling, the products have low noise as well as zero vibration. Rendered with simple maintenance as well as low electricity consumption, offered high quality and extensively serviceable Oil Seed Crushing and Grinding Machines are appreciated for their exceptional performance.
Key Points of Oil Seed Crushing and Grinding Machines:
The Grinding devices of the machines come with high speed. Are functional as the movable as well as fixed fluted discs so as to make the material crushed via the tooth discs impact, collision and friction.
Crushing material can directly get out from the grinding cavity to the settling door, and then smashing into the gathering carrier. Then the air comes out from the minor hole of the bag without the fine powder, insuring no waste and zero pollution.
Capable to grind seeds, spice, grains, tree branches, chemical materials, Chinese herbs, etc. The grinding powder these offer is fine as well as uniform. Applicative for chemical plant, drug manufacturing room, clinic, policlinic, pharmaceutical factory, food factory, health care products plant, research laboratory, feed mill etc.
| | |
| --- | --- |
| Specification | Details |
| Name of the Product | Oil Seed Crushing Machine |
| Machine Extraction Method | Cold Press |
| Oil Seed Crushing Parts | Iron |
| Foundation Free | Yes |
| Installation | Self Installed |
| Sound | Noise Less |
| Vibration Free | Yes |
| Motor Power | Deponds on model 5 Hp to 15 Hp |
| Motor Starter | Provided |
| Motor Voltage | 440 V |
| Motor Phase | 3 Phase |
| Motor RPM | Depends on model |
| Automatic Grade | Semi Automatic |
| Capacity | Depends on model (16 kg/Hr to 60 Kg/Hr) |
| Utility | Commercial |
| Other Oil Seeds | Edible Oil :Groundnut Oil, Sesame Oil (Gingelly Oil), Coconut (Copra) Oil, Mustard Oil, Sunflower Oil, Rapeseed Oil, Castor Oil, Flaxseed(Linseed) Oil, Almond Oil, Olive Oil , Vegetable Oil. Non-Edible Oil : Karachi Oil, Pungan Oil, Illupan Oil, Neem Oil, Moringa(Drumstick) Oil, Blackseed (Black Cumin) Oil, Castor Oil, Cashew Shell Oil, Cottonseed Oil. |
Trade Information
Open pack or Wooden pack as per customer wish

Pondicherry, Andhra Pradesh, Maharashtra, Telangana, West Bengal, Karnataka, Goa, Tamil Nadu, Kerala, Odisha
SSI Registration number : TN07A0011426