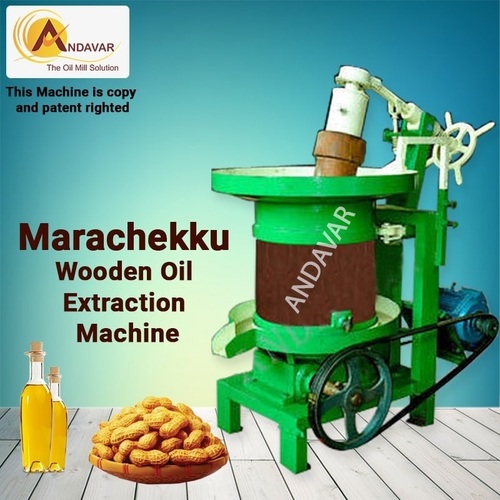 Kadalai Ennai Machine
Product Description
We deal in best quality Kadalai Ennai Machines, which are the products that have attained severe testing environment and are the embodiments of rigorous research. These have been made to improve the yield as well as quality of the edible oil extracted from the expeller. These machines are being successfully used in several parts of the world since numerous of years. Indian Edible Oil industry is noted as the fourth largest benefactor in the world after US, China and Brazil. With a rich agricultural setting, our country has a lot of scope for establishment of Kadalai Ennai Machines, which are capable to meet the market demands.


Key Points of Kadalai Ennai Machines:

Render best quality oil that is known as the highly pure agro food product, rendered with retained quality. Come with oil expulsion that is an abrasive process during which a lot of warmth is generated.
The heat makes an adverse effect on the oil made in numerous ways. Make pure oil without any tint of chemical, capable to reduce the profitability of the mill.
Rendered with high yield and work in accordance to the industry standards. Power variants as well as high milling capacities are accessible.
Insure low initial investment, simple to install, boosted yield at low operating cost, capable of extracting oil from all acknowledged oil seeds. Rendered with reduced wear as well as tear of parts.
Offer best quality of oil & cake, come with less maintenance. Offered with box type construction so as to insure all types of shock loads.
| | |
| --- | --- |
| Specification | Details |
| Name of theProduct | Kadalai Ennai Machine |
| MachineExtraction Method | Cold Press |
| Oil SeedCrushing Parts | Wood |
| FoundationFree | Yes |
| Installation | SelfInstalled |
| Sound | Noise Less |
| VibrationFree | Yes |
| Motor Power | Depends onmodel 3 Hp to 5 Hp |
| Motor Starter | Provided |
| Motor Voltage | 440 V / 220 VOptional |
| Motor Phase | 3 Phase / 1Phase Optional |
| Motor RPM | Depends onmodel |
| AutomaticGrade | SemiAutomatic |
| Capacity | 20 Kg perHour |
| Utility | Commercial |
| Other OilSeeds | Edible Oil :Groundnut Oil, Sesame Oil (Gingelly Oil), Coconut (Copra) Oil,Mustard Oil, Sunflower Oil, Rapeseed Oil, Castor Oil, Flaxseed(Linseed) Oil, Almond Oil, Olive Oil , Vegetable Oil. Non-EdibleOil : Karachi Oil, Pungan Oil, Illupan Oil,Neem Oil, Moringa(Drumstick) Oil,Blackseed (Black Cumin) Oil, Castor Oil, CashewShell Oil, Cottonseed Oil. |
Trade Information
Open pack or Wooden pack as per customer wish

Andhra Pradesh, Pondicherry, Maharashtra, Goa, Tamil Nadu, Telangana, West Bengal, Kerala, Karnataka
SSI Registration number : TN07A0011426