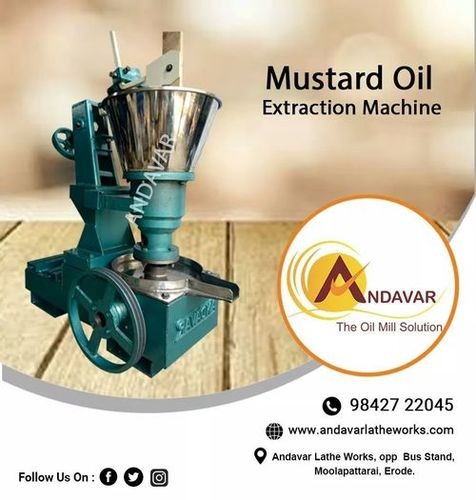 Mustard Oil Extraction Machine
Product Description
Mustard Oil Extraction Machine
Mustard Oil Extraction Machines we offer are rendered with outstanding features as well as dependability for attaining full pressing so as to produce full press cake and crude oil from a wide variety of mustard seeds. Accessible in multiple sizes, based on the processing capacity, these machines yield high quality oil as well as cake with residual oils among the lowest in the industry when employing the single pressing process. These machines can also be supplied for prepressing oilseeds so as to make prepress cake prior to solvent extraction. These products come with several features that make the screw presses. Mustard Oil Extraction Machines are capable to reduce the temperature rise, dipping heat degradation of the press cake as well as crude oil, rendering our clienteles a lighter color cake as well as higher quality oil.

Key Points of Mustard Oil Extraction Machines:

Rendered with several options, come with unique screen bar designs as well as shaft arrangements that will render users with maximal productivity as well as operating efficacies.
Exclusively made for numerous years of dependable service. Rendered with cone mechanism at the press discharges to enable absolute control of backpressure fine-tuning while producing press cake.
Offered with efficient force feeder assembly to eject air from the feed stream. These also insure 100% feed to the feed hopper as well as main cage. These can convey the substantial from the conditioner ejection to the press force feeder.
Rendered with screw presses as well as parallel shaft helical gear reducers. Proffered with splash lubrication, these come with extended serviceability.
Specification

Details

Name of the Product

Mustard Oil Seed Extraction Machine

Machine Extraction Method

Cold Press

Oil Seed Crushing Parts

Iron

Foundation Free

Yes

Installation

Self Installed

Sound

Noise Less

Vibration Free

Yes

Motor Power

Depends on model 5 Hp to 15 Hp

Motor Starter

Provided

Motor Voltage

440 V

Motor Phase

3 Phase

Motor RPM

Depends on Model

Automatic Grade

Semi Automatic

Capacity

Depends on model (16 kg/Hr to 60 Kg/Hr)

Utility

Commercial

Other Oil Seeds

Edible Oil :

Groundnut Oil, Sesame Oil (Gingelly Oil), Coconut (Copra) Oil,Mustard Oil, Sunflower Oil, Rapeseed Oil, Castor Oil, Flaxseed(Linseed) Oil, Almond Oil, Olive Oil, Vegetable Oil.




Non-Edible Oil :

Karachi Oil, Punning Oil, Illupan Oil,Neem Oil, Moringa(Drumstick) Oil,Black seed (Black Cumin) Oil, Castor Oil, CashewShell Oil, Cottonseed Oil.
Trade Information
Open pack or Wooden pack as per customer wish

West Bengal, Telangana, Tamil Nadu, Pondicherry, Odisha, Maharashtra, Kerala, Karnataka, Goa, Andhra Pradesh
SSI Registration number : TN07A0011426