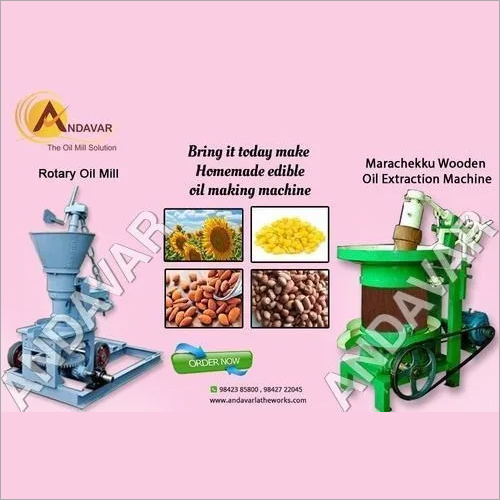 Oil Mill Machinery
Product Description
Oil Mill Machinery
we provide are the series of machines applicable to extract oil from numerous oil bearing seeds. The oils these mill are from: ground nuts, sesame, sunflower, cotton seed, castor seed and lin seeds. With numerous advancements in the farming sector, several individuals have selected to set up these milling machineries in their local sites. These productions assist to make income in rural areas and also help to expand the several employment chances in the villages. Owing to their effortlessness as well as affluence of handling, most of these Oil Mill Machineries are also apt for small entrepreneurs as well as industry users.

Key Points of Oil Mill Machinery:

Suited for small to medium scale oil extraction, Proffered with several component parts that make these products whole, all playing the dissimilar roles. Sectioned with decorticators, applicable to eliminate oil seeds as well as seeds from their shelling.
Beneficial to cook seeds as well as kernels attained after the shells are removed. The expellers these come with can crush the oil seeds so as to attain oil as well as oil cake.
Filter presses are made to eliminate unwanted impurities from the oil yielding an unadulterated comestible product.
Proffered with the biggest benefit of employing oil expellers so that oil is removed via the usage of such machines so as to make the organic oil as that is 100% pure and free from all chemicals.
Specification

Details

Name of the Product

Oil Mill Machinery

Machine Extraction Method

Cold Press

Oil Seed Crushing Parts

Iron

Foundation Free

Yes

Installation

Self Installed

Sound

Noise Less

Vibration Free

Yes

Motor Power

Depends on model 5 Hp to 15 Hp

Motor Starter

Provided

Motor Voltage

440 V

Motor Phase

3 Phase

Motor RPM

Depends on Model

Automatic Grade

Semi Automatic

Capacity

Depends on model (16 kg/Hr to 60 Kg/Hr)

Utility

Commercial

Other Oil Seeds

Edible Oil : Groundnut Oil, Sesame Oil (Gingelly Oil), Coconut (Copra) Oil, Mustard Oil, Sunflower Oil, Rapeseed Oil, Castor Oil, Flaxseed (Linseed) Oil, Almond Oil, Olive Oil , Vegetable Oil.

Non-Edible Oil : Karachi Oil, Pungan Oil, Illupan Oil,Neem Oil, Moringa (Drumstick) Oil,Blackseed (Black Cumin) Oil, Castor Oil, Cashew Shell Oil, Cottonseed Oil.
Trade Information
Pondicherry, Telangana, Goa, Kerala, Andhra Pradesh, Odisha, Karnataka, Maharashtra, West Bengal, Tamil Nadu